Look out, Austin; summer is on its way! If you're searching for the best activities for your kids to enjoy this Summer, look no further!
Here are our top picks for the best summer camps to keep your kids active and engaged in 2022.
#1. Best Multi-Subject Day Camp: Camp Doublecreek

Founded in 1971, Camp Doublecreek in Round Rock provides a classic Summer camp experience, complete with time-honored camp activities, including arts and crafts, archery, swimming, rock climbing, horseback riding and more. The camp is open to kids ages 8-14, and has earned a reputation for providing a safe and encouraging environment for kids of all ages.
With a one to ten camper to staff ratio and a licensed medical professional always on-site.  Camp Doublecreek doesn't skimp on safety.
The camp also offers complimentary transportation from ten convenient drop-off points in Austin, Round Rock, Cedar Park, and Pflugerville. With drop-offs at 7:30 am and pick-ups at 5:30 pm, Camp Doublecreek can be a real lifesaver for working parents and active kids.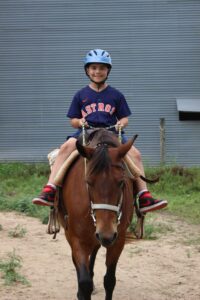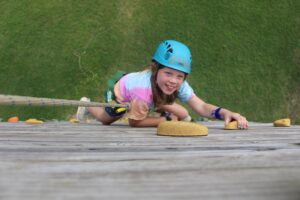 ASA's Sports and Adventure Camp is a week-long day camp that engages kids and teens 5 to
14 in fun skill-based activities to keep them active and entertained all day long. ASA's coaches lead activities in a plethora of sports, including hiking, basketball, soccer, ultimate frisbee, rock climbing, golf, and more, making ASA's Sports and Adventure Camp the perfect fit for active kids with diverse interests.
ASA also offers fun, skill-based full and half-day soccer camps for kids interested in improving their technical skills and confidence on the playing field.
Honorable mentions: Summer is the perfect time for your child to explore their passions and
make strides in their sport of choice. Whether your youngster dreams of spending their summer golfing with the pros, climbing to new heights, or perfecting their free throw, Austin has the program for them!
Here are a few of Austin's most beloved sport-specific Summer camps:
Basketball Camps
Brandy Perryman Basketball Camp
Soccer Camps
Rock Climbing Camps
Martial Arts Camps
Austin Karate Academy Summer Camp
Located just 40 miles northwest of Austin, CBS serves as a safe, idyllic getaway for kids and teens ages 6 to 17. CBS offers an abundance of thrilling activities to challenge and engage campers of all ages, including horseback riding, cooking, jewelry making, woodworking, water skiing, sailing, team competitions, and more. CBS also provides plenty of guidance and never skimps on safety, with a 4 to 1 camper to counselor ratio, two 24/7 on-site nurses, and an on-call camp doctor.
Honorable Mentions:
Summer Motocross Overnight Camp
Austin Film Festival's Summer Film Program is a one-of-a-kind experience that inspires and empowers budding artists, ages 9 to 18, to create! In addition to providing hands-on courses in screenwriting, filmmaking, editing, claymation, and more, the program empowers campers to work together to create their own short films. In the past, campers have participated in discussions with such industry luminaries as Pamela Ribon, the writer of Moana, and Mark Kamen, the writer of the Karate Kid. After the week-long program, campers have the opportunity to see their short films on the big screen at AFF's annual Summer Film Showcase.
Honorable mentions:
Austin School of Fashion Design Summer Camps
Game Worlds' summer camp is a unique, week-long STEM education program that channels kids' and teens' passion for playing games into a love of building them! Campers learn both the technical and artistic aspects of coding, receive tutorials from professional developers, create their own games from start to finish, and build confidence as coders and artists. Camp runs from 7:30 am to 5:30 pm and includes healthy snacks and a catered lunch, so you can rest assured that your child is safe and learning throughout the day.
Honorable mentions:
Kidventure offers programs for kids of all ages, but Camp Echo, Kidventure's nine-day sleep-away camp for teens ages 13-16, stands out for its emphasis on building confidence, leadership skills, and life-long friendships through outdoor adventure, teamwork, and community service. In addition to rock climbing, rappelling, caving, kayaking, and ziplining, campers participate in a two-day backpacking trip, a community service project, and evening social events.
Camp Echo sets itself apart from other overnight camps by accepting a limited number of teens each year, ensuring that campers have more one-on-one time with both counselors and each other. Camp Echo is located on the Nueces River at Camp Eagle near Rocksprings, but transportation from Austin is provided and, reportedly, an essential part of the Kidventure experience.
Honorable mentions:
Teen Wilderness Survival Overnight Camp
Earth Native Wilderness School Summer Camps provide the perfect balance of nature education, exploration and adventure for kids ages 3 to 12. With the guidance of expert outdoor instructors, campers learn hands-on survival skills, track animals, and explore McKinney Falls State Park, Garey Park, or the School's beautiful Bastrop campus. Earth Nature Wilderness School also offers exciting Wilderness Skills Overnight Camps for kids and teens ages 9-16.
Honorable mentions:
McKinney Roughs Nature Park Summer Camps
It should come as no surprise that Austin, the live music capital of the world, has more than a few great summer camps for your young musician. Of all those camps, Band Aid School of Music's Summer Camps stand out for the high-quality instruction and unforgettable experiences they provide to campers of all ages (4-18), experience levels, and interests.
The school offers programs for beginner and advanced singers, bassists, guitarists, drummers, and keyboardists. Campers work in teams to write songs and hone their skills, and at the end of the week, they have the opportunity to play a show at Stubb's and record and mix a song in Band Aid's recording studio. The Band Aid School of Rock also offers more intensive Guitar and Voice camps for intermediate and advanced musicians interested in taking a closer look at the most influential players and singers of the past and present.
Honorable mentions:
Austin Chamber of Music Summer Workshops
MBPT Summer Music and Recording Workshop, Paramount Summer Camps
Kidventure's Discoverer program runs Monday-Friday 8:00 am – 3:00 pm and is specially designed to promote creativity, physical activity, exploration, and reflection in young campers ages 3-5. This program stands out for its safety features and age-appropriate exploration activities, including arts and crafts, yoga, group games, and visits from special guests. The program has an all adult team, primarily made up of certified teachers and education students, all of which are background checked and CPR and first aid certified.
Honorable mentions:
Balance dance camp (ages 3-5. Tiny dancers)
From fun, Encanto-themed half-day camps to hardcore intensive training, Lonestar Dance Center has something for everyone this Summer. Campers 3-7 years old can enjoy their choice of fun-themed camps, which allow them to dance, play and make friends while exploring their interests. Meanwhile, older kids can enjoy full-day camps with exciting themes like Mega Minecraft, TikTok Hip Hop, and Disney+, and more advanced dancers can challenge themselves with intensive courses and workshops in technique, commercial dance, ballet, and more.
Honorable Mentions: